History of the Mr. Olympia
As told by Wayne DeMilia, IFBB Professional Division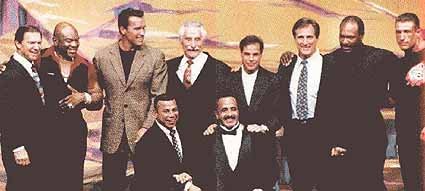 Rare photo of all nine Mr. Olympias onstage together, with the "Master Blaster" Joe Weider, taken at the 30th anniversary of Joe Weider's Mr. Olympia, Atlanta Civic Centre, Atlanta, Georgia, 1995.

It started on September 18, 1965. The crowd at the Brooklyn Academy of Music waited at the edge of their seats, screaming in anticipation. They clapped their hands, stomped their feet and yelled as loud as their lungs would allow for the blond superstar from California with arms too big to believe. The man they were waiting for was the legendary Larry Scott, and the reason why they were waiting was because this was the night of Joe Weider's greatest creation. This was the night of the first-ever Mr. Olympia contest.
Larry Scott was the bodybuilding superstar of his day, but by 1963 there were no more worlds to conquer. Scott had already won the Mr. America, Mr. World and Mr. Universe titles; there was little left for him to prove.
Besides proving anything, Scott already had a houseful of trophies and plaques and felt that it was time to move on from bodybuilding and make some money.
Joe Weider recognized the need to keep Larry Scott in bodybuilding and the necessity to force the sport to grow. He created the Mr. Olympia contest to keep all the great Mr. Universe champions active in the sport and to give them the opportunity to earn money from competing. Joe could see that for the sport to succeed in the future, the champions would have to be able to make a living from competing in the sport just like other professional athletes.
Larry Scott indeed won the first Mr. Olympia contest that hot September night in 1965 and repeated as Mr. Olympia again in 1966. He then announced his retirement and the 1967 crown was up for grabs.
In 1967, Sergio Oliva (commonly known as "The Myth") won the third Mr. Olympia contest in overpowering fashion. People wondered how much better Sergio could get. But better he was! In fact, he was so much better that he won the 1968 Mr. Olympia unopposed. You know true greatness when no one dares to challenge.
Nevertheless, the greatest challenge to Sergio was waiting in the wings, and 1969 commenced the greatest rivalry in the history of bodybuilding. Oliva was challenged by a young Austrian named Arnold Schwarzenegger. In a close battle, Sergio came out on top in 1969. He was now Mr. Olympia three years in a row, but Arnold promised that Sergio would never defeat him again.
Both men trained hard for the following year and in September of 1970, Arnold edged out Sergio to become the third man to hold the Mr. Olympia title. He said he would hold the title until he retired and that he would never be beaten again.
Arnold took the title unopposed in 1971. For the first time, the show was held outside of New York. The Mr. Olympia contest was held in Paris, a week after the NABBA Universe in London. Arnold, with his loyalty 100% behind the IFBB, competed in the Mr. Olympia while other great champions of that year chose to avoid Arnold and compete in the NABBA competition.
In 1972, the Olympia moved to Essen, Germany, where it hosted another epic battle between Sergio and Arnold. Even today, more than 20 years later, people still argue over who should have won. The decision was made by seven judges and, by a four-to-three vote, Arnold held on to his Mr. Olympia title.
In 1973, the contest moved back to New York, and the Big Apple saw Arnold take the title for the fourth consecutive year with a victory over Franco Columbu and Serge Nubret. Most people felt it was an easy win for Arnold, but a huge challenge awaited him for the following year – the emergence of Lou Ferrigno on the pro scene.
Standing 6'5″ and weighing 270 pounds, Lou was the largest competitor that Arnold had ever faced. The show was held in New York at the Felt Forum in Madison Square Garden. Arnold again showed his dominance and won the title for a fifth time, but rumors started to circulate that he was thinking of retiring.
The Mr. Olympia contest moved to South Africa in 1975, forever preserved on film in Pumping Iron. Most people close to Arnold feel the only reason he competed in 1975 was because the contest was being filmed and it could probably aid in kicking off his film career. Arnold won the contest easily and immediately announced his retirement.

In 1976, the contest moved to Columbus, Ohio, with Arnold serving as promoter along with Jim Lorimer. Franco Columbu finally won the Mr. Olympia title after trying for more than five years. It was not an easy victory, for he won by only an eyelash over Frank Zane. After the contest, Columbu announced his retirement while Zane immediately started training for the next year.
The next year, 1977, turned out to be the year of Zane. Frank Zane had promoted himself that way for the 12 months leading up to the contest. He came to Columbus ripped and ready. He felt that no one could match his muscle density and he was right.
Almost like an instant replay, the 1978 show was again held in Columbus and Frank Zane walked away with the title. Frank proved that the Mr. Olympia winner did not necessarily have to be big, as what wins is quality.
In 1979, Zane made it three in a row. Could he go on forever? Would he challenge Arnold's record of six Olympias in a row? Zane seemed unbeatable, but 1980 would prove to be the most controversial Olympia in history.
In 1980, the contest was held in Australia. The field of competitors was the largest to date, but it was the comeback of one that made the story. Many in the sport had seen Arnold training for weeks before the 1980 Mr. Olympia, but most felt it was for a movie. When Arnold boarded the plane for Australia with the other competitors, they thought he was going to do the TV commentary. Even at the contestants meeting, they thought he was there because he was an IFBB promoter and official. It dawned on them that he was there to compete when his name was called, and he selected a competitor number. Arnold won the Mr. Olympia title for a seventh time in 1980, but to this day, many people still wonder why he came back.
In 1981, Arnold switched back to being a promoter with Jim Lorimer and the contest was again held in Columbus. Not to be outdone by his famous friend, Franco Columbu staged a comeback himself and won the 1981 title in a tight contest.
In 1982, London, England, hosted the show for the first time. Chris Dickerson won the title after finishing second the two previous years. After winning, Dickerson announced his retirement while onstage.
The contest returned to Germany in 1983, but this time it was to Munich, where it was won by the Lion of Lebanon, Samir Bannout. He fought off tough challenges from Mohammed Makkawy from Egypt and newcomer Lee Haney from the USA. Samir had what it takes to be a dominant champion, but no one foresaw the determination of Haney.
In 1984, the event moved back to New York City's Felt Forum, where it had the highest attendance for the finals (5,000), the highest attendance for prejudging (4,200) and the largest amount of total prize money ($100,000) for any Olympia up to that time. It also featured the largest Mr. Olympia winner, Lee Haney. Haney won weighing 247 pounds at a height of 5'11". He was big, he was massive and he was cut. Also, he was unbeatable.
In 1985, the show was held in Belgium for the first time. Haney was dominant again, fighting off the challenges of Albert Beckles and Rich Gaspari. It was now two and counting for Lee. Many people felt that the Lee Haney onstage in the 1986 rendition in Columbus might have been the greatest Mr. Olympia ever. Lee took his third straight crown and began setting his sights on Arnold's record.
In 1987, the Mr. Olympia contest moved to Sweden, but the first-place result was the same. Haney was head-and-shoulders above all the others. He had now won four in a row, and Arnold's record was definitely within his reach.
In 1988, Los Angeles was the host city of the Olympia. The Universal Amphitheater was jammed by 6,000 who came to see if Lee Haney could continue in his quest of becoming the greatest Mr. Olympia ever. With prize money at its highest level, $150,000, Haney again won easily making it five straight times. For the third year in a row, Rich Gaspari placed second.
The next year brought the Mr. Olympia to Rimini, Italy, on the beautiful Adriatic coast. This would prove to be Haney's toughest defense, as he had to fight off the challenges of Lee Labrada and Vince Taylor. For the first time, people doubted Haney's dominance and many people said that he was lucky to win. But win he did, and in doing so tied Arnold's record of six consecutive Mr. Olympia victories.
In 1990, 4,400 people packed Chicago's Arie Crown Theatre. Prize money hit $200,000 for the first time ever as Haney tried to make it seven in a row. If 1989 was tough for Haney, 1990 was the year he almost lost. After two rounds, he was behind by two points, but rallied in the posing round and posedown to beat Lee Labrada and Shawn Ray. Haney now had seven consecutive Mr. Olympia titles.
Orlando, Florida, was the site of the 1991 Mr. Olympia. Haney was going for eight in a row but, for the first time, he was up against a man who was the same height (5'11") and weight in 245-pound Dorian Yates, the Beast of Britain. Four points separated them after two rounds, but Haney pulled away in rounds three and four to seize his eighth championship in a row.
In 1992, the Mr. Olympia contest moved to Helsinki, Finland. A new Mr. Olympia would be crowned that year because Lee Haney had decided to retire after a record-setting eight consecutive victories. The contest was close after the first round between the U.S. National Champion of 1991, Kevin Levrone, and the '91 Mr. Olympia runner-up, Dorian Yates. But after the first round, Yates started pulling away and won in convincing fashion.

A new Mr. Olympia was crowned, but did a new era begin?
Nothing could stop the amazing Yates in 1993 as he rocked the scales at a record 257 pounds in Atlanta. Even runner-up Flex Wheeler called him "untouchable". Yates certainly seemed set for a long reign in the manner of other great Mr. Olympias.
However, the Brit endured a horrendous year in 1994. In early March, he severely damaged his left rotator cuff, and then, later in the month, he tore his left quad. He battled his way through, but with the Olympia less than nine weeks away, he tore his left biceps. Displaying true blood and guts, even that injury could not end Yates' Olympic dream. He duly arrived in Atlanta to take his third Sandow statuette, but questions were raised as to what was previously thought to be his invincibility.
If doubts were raised about Yates's reign, he didn't hear, or heed them. He returned to Atlanta in '95 to score a straight-firsts victory in what many rate his best-ever form. Kevin Levrone hulked into second place and a new threat emerged in this sport in the 270-pound Nasser El Sonbaty. Not that Yates was the only Mr. O on stage that night, as in a unique ceremony, for the first time ever, all nine men who had so far won the Olympia crown assembled onstage to pay homage to the contest's creator, Joe Weider.
In 1996, after a three-year tenure, the Olympia left Atlanta and moved to Chicago. In the Windy City, Yates, more streamlined than we've ever seen him, cruised to victory, closely followed by Shawn Ray and Kevin Levrone. It was the Brit's fifth victory, and, as in '94, doubts about his invincibility began to surface.
In 1997, the Mr. Olympia road show arrived in Long Beach to celebrate the 33rd rendition of bodybuilding's ultimate contest. Total prize money was $285,000, first place was worth $110,000, and bodybuilders were recognized as professional athletes in the truest sense of the word. The Mr. Olympia contest, which only Joe Weider had the imagination to create, was firmly established as bodybuilding's show of shows.
Dorian Yates was now going for six Olympia titles in a row. Could he make it six in a row? Would he make a run at Haney's record of eight in a row? It was a hard fought contest. Nasser El Sonbaty came in at his best condition to date and pushed Dorian hard. In the end, Dorian took the title for the sixth time, but there were some that felt Nasser was better. It would set up an interesting confrontation for 1998 since Dorian announced moments after winning the title that he would be coming back to compete for a seventh title.
What most people did not know was that Dorian suffered a torn triceps in training a few months before the show. Being the tough champion that he is, he said nothing and competed. After the contest, he had surgery to repair the muscle tear, but it will prevent him from competing in 1998.
In 1998, the Olympia will move to Madison Square Garden in New York City and will see the crowning of a new Mr. Olympia. Although a new champion will wear the coveted title of the "World's Best Bodybuilder", will he be cast in the shadow of Dorian Yates who may or may not return in 1999?
Editor's Note – Courtesy of Peter McGough, Editor-in-Chief, FLEX
His senses were reeling, battling to come to terms with the scene unfolding around him. He stood next to precontest favorite Flex Wheeler at the top of the ramp erected at The Theater at New York's Madison Square Gardens, gazing out over the seething maelstrom of a sellout crowd of 5,600. They were in an uproar as a chant of "RON-NIE! RON-NIE!" filled the auditorium, as it had throughout the day. He, Wheeler and the 5,600 were waiting to hear IFBB Pro Division Chairman Wayne DeMilia make the second-place announcement at the 1998 Mr. Olympia contest. The man not called would go down in history as the best bodybuilder in the world, the successor to Dorian Yates (retired), Lee Haney, Arnold Schwarzenegger, Sergio Oliva, et al.
Hushing the crowd, DeMilia purred into the microphone: "In second place …", DeMilia, who makes the Marquis de Sade seem like Mary Poppins on Valium, then cruelly paused a full 10 seconds before barking, "… Flex Wheeler!"
The crowd erupted into celebration as the man who was supposed to be the last one standing went the other way, crashing face down to the ground in shock. Could it be that a guy who finished "dead last" in his first Olympia back in 1992, who placed ninth at the 1997 rendition, who had to constantly remind people that he was not the bodybuilder called Ron Coleman, had just entered the ranks of bodybuilding immortality? It could, and the biggest baddest cop in Texas began to sob uncontrollably, as at 10:41 PM on Saturday, October 10, 1998, 34-year old Ronnie Coleman became only the 10th Mr. Olympia in the contest's 33-year existence.
Editor's Note: – Courtesy of Peter McGough, Editor-in-Chief, FLEX
Like Siegfried and Roy, like abs and thighs, Las Vegas and the Mr. Olympia belong together: Both celebrate excess for the sheer excessive sake of it; both foster a larger-than-life philosophy decreeing that its standout attractions keep getting bigger and bigger and bigger; both revel in illusion and promote the fantasy that "life-changing gains can be yours", which in truth only a gifted few can attain. So it really was only a matter of time before Joe Weider made the inspired decision to bring his bodybuilding flagship to the gambling capital of the world.
Staging the Mr. Olympia contest in Las Vegas was a spectacular success, for there has never been a more glamorous setting for the sport's premier contest than the Mandalay Bay Resort and Casino, and there has never been a greater night for bodybuilding than what occurred there on October 23, 1999. A sold-out 5,000 capacity crowd at the hotel's Event Center witnessed a thrilling extravaganza that culminated in Ronnie Coleman outmuscling 15 others on the road to Mandalay and his second consecutive Olympia crown, with the only apparent dissenter to the decision being a hyped-up Flex Wheeler.
Editor's Note: – Courtesy of Jim Schmaltz, Senior Editor, FLEX
How do bring down Ronnie Coleman? Tell him he's won the Mr. Olympia.
Now for the third time in a row, the world's greatest body collapsed like a heaving shuddering rag doll after learning he had won the Mr. O title, thus becoming the biggest structure to implode on the Las Vegas Strip since the demolition of the El Rancho resort a few weeks earlier.
Ronnie's personal annual fall classic, with its sobs of elation and earnest familial embraces, was emblematic of the exposed emotions curdling the atmosphere of the 36th annual Mr. Olympia, held at the Mandalay Bay Resort and Casino on Saturday, October 21.
Among Coleman's competitors, it was a night of repressed rage and quiet smoldering – a gathering of frowning Paul Bunyans who looked as if their favorite ox had just died. If the Mr. O lineup were a rock group, they'd be called the Moody Blues.
Editor's Note:
Opening article photography by Cory Sorensen
Open article photo research by Lisa Clark
Links photo reports by Tony Blinn
All reports and photographs that appear in the following article are taken from archived copies of MUSCLE BUILDER/POWER only.
Read Joe Weider's Editorial Announcement, from the April 1965 edition of Muscle Builder, on a new contest to be called the "MR. OLYMPIA"!