1968 MR. OLYMPIA REPORT
Excerpted from the December 1969 edition of Muscle Builder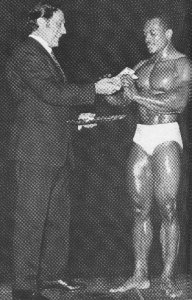 Everyone had expected the reigning champ, Sergio Oliva, to meet with tough opposition from Sipes, Schwarzenegger, Poole, Draper, and other greats. As it turned out, Sergio went on alone, and won the OLYMPIA title and $1,000 cash prize a second time in a row – this time by default.
Somewhat disappointed by the missing battle, a fight that had been anticipated for months, the fans were nonetheless held spellbound by Sergio as he went through his posing routine. So fantastic was his development that in just a few moments the others were forgotten, and everyone was caught up yelling and pounding the floor for more … more … MORE Sergio, without question, the greatest bodybuilder in the world.

But why was he up there alone? Were the others afraid to challenge him? Let's take a look at the missing contenders, those who were expected to challenge him, who never showed.
Harold Poole: 1968 promotion to General Manager of a New York business adversely affected his training schedule.
Dave Draper: Heavy movie-making schedule and guest appearances to promote films adversely affected his training schedule.
Chuck Sipes: Having just won the MR. WORLD and having performed strongman stunts that evening, he was tense and taut; he did not think that he could go through another grueling series of poses in order to look his best against Sergio. So as not to mar his MR. WORLD victory that evening, he took Joe Weider's advise and decided to wait until 1969.
Arnold Schwarzenegger: Had advised IFBB that he would compete however, decided to instead enter PRO MR. UNIVERSE in London, England; held on same day as MR. OLYMPIA.